Berrios and Martwick Address Polish-American Community Issues
February 26th, 2014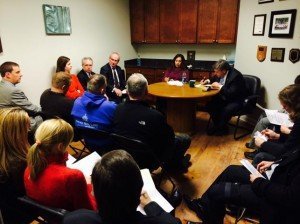 CHICAGO – State Rep. Maria A. "Toni" Berrios, D-Chicago, and Rep. Robert Martwick, invited community members to their first "Polish Issues Advisory Committee" on Monday. The new committee will meet quarterly to discuss legislative ideas and other solutions to challenges unique to the Chicago area Polish-American community.
"The Polish community has always been an active part of our city, and I look forward to their continued feedback on legislation and their collaboration on local initiatives," Berrios said. "I would like to thank Rep. Martwick and over 20 community leaders who contributed to the productive dialogue. By working together, we can make our neighborhoods even stronger."
For more information on her next Polish Issues Advisory Committee meeting, please contact Berrios' constituent service office at 773-736-3939 or e-mail repberrios39@gmail.com.
###