About Toni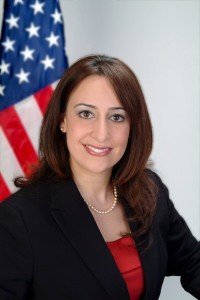 Maria Antonia "Toni" Berrios is serving her sixth term in the Illinois General Assembly as the 39th District State Representative. Her Northwest Side Chicago District includes parts of the Avondale, Belmont Cragin, Hermosa, Old Irving Park, Portage Park and Logan Square communities. Representative Berrios is the first Puerto Rican woman to serve in the Illinois House of Representatives.
As a State Representative, her top priorities are to improve education and the quality of family life in her district and throughout Illinois. She has focused on issues that increase the well-being of children, seniors and working families. The Representative strongly supports after school programs, affordable housing and initiatives that reduce crime, as well as provide better health care for everyone.
In Springfield, Berrios serves on eight committees. She is the Chairperson of the Financial Institutions Committee and a member of the Executive Committee. She is also a member of the Insurance Committee, Mass Transit and International Trade and Commerce Committee. Representative Berrios also serves on the Tollway Oversight Committee, Tourism and Conventions Committee, and Biotechnology. In addition to her regular committees, she serves as Treasurer for the Illinois Legislative Latino Caucus.
Berrios has always been an active member in her community, volunteering her time over the years with various organizations and events, including the Young Democrats of Cook County. Some of the events that she has hosted annually are Job Fairs, Holiday Food Drives, Back-to-School Health Fairs and Environmental Protection Advisory Committees. She currently serves on the Board of Directors of Child's Play Touring Theatre, a premiere theater company in the U.S. which for over 30 years has dedicated itself to exclusively performing works written by children.
The Representative attained a Master's Degree in Business Administration with a concentration on International Business from Keiser University. Berrios received her undergraduate degree from Northeastern Illinois University with a Board of Governor's Degree. She also holds a Certificate of completion from the Executive Education Program at Harvard Kennedy School. Berrios has achieved a Certificate of Completion from the Bowhay Institute for Legislative Leadership Development, conducted by The Council of State Governments Midwestern Office in cooperation with The Robert M. LaFollette School of Public Affairs at the University of Wisconsin-Madison.
Representative Berrios is currently the first woman to hold the title of Chairwoman for the Board of Hispanic Caucus Chairs. She was also the first woman to serve as Co-Chair of the Illinois Legislative Latino Caucus. She has previously served as secretary for the Latino Caucus of the Young Elected Officials Network and is a member of the American Council of Young Political Leaders, the National Association of Latino Elected and Appointed Officials and the National Hispanic Caucus of State Legislators. She was also selected to participate in the Foreign Policy Institute for State Legislators conducted by the Center for Women Policy Studies.
2013